Written by William Altman and Richard DeKorte
The (re)insurance industry needs to understand what technology dependencies organizations are using and how to navigate these risks.
Meta Pixel technology (also known as Facebook Pixel) has gained popularity among organizations tracking visitor activity on their websites. While Meta Pixel offers valuable insights, it also presents potential risks, especially in terms of privacy violations and regulatory compliance. This article explores the significance of Meta Pixel as a risk factor and how CyberCube's SPoF Intelligence can help identify and manage such risks.
What is Meta Pixel technology and why is it a risk?
The utilization of Meta Pixel raises concerns regarding the proper collection and use of protected privacy data. Violating privacy regulations, such as the Health Insurance Portability and Accountability Act (HIPAA) in the healthcare industry, as well as other privacy related rules, has led to class-action lawsuits against numerous organizations beginning in February 2022. However, only the federal government can bring an action under HIPAA, so the lawsuits are being brought under state or federal privacy and consumer protection laws. Plaintiffs alleged that the organizations were tracking their medical information, sharing it with Meta, who in turn used such data for targeted advertising.
It's important to note that the concerns are not limited to healthcare scenarios. A number of class-action lawsuits have been brought against a variety of defendants in various industries, under the federal Video Privacy Protection Act, originally intended to protect consumers' videotape rental records, alleging the tracking of online viewing habits on defendants' sites. Plaintiffs' counsel will continue to employ traditional causes of action in order to bring privacy cases in the absence of relevant federal privacy legislation.
Organizations that are utilizing Meta Pixel technology should review internal and external policies and procedures for the proper and adequate disclosure of such use.
Identifying companies in a portfolio that use Meta Pixel
The (re)insurance industry needs to access the right tools to identify companies in their portfolio that depend on Meta Pixel. CyberCube's customers can leverage our Single-Point-of-Failure (SPoF) database to accomplish this.
By querying SPoF data, organizations gain valuable supply chain and compliance risk insights. Visual representations, such as the heatmap below, provide a comprehensive overview of a portfolio's profile concerning Meta Pixel dependencies.
Analysis of Meta Pixel usage in CyberCube's Industry Exposure Database (IED)
A comprehensive analysis conducted on CyberCube's IED, encompassing a representative sample of US-based cyber insureds across various industries and company sizes, reveals interesting findings. The analysis demonstrates that Small ($10M - $250M revenue) Retail organizations dominate the Meta Pixel usage within CyberCube's IED, far surpassing other industries. Moreover, Small Healthcare organizations hold the second highest percentage of companies dependent on Meta Pixel in the database. This highlights the elevated risk faced by healthcare organizations subject to unique data privacy regulations.
Each cell in the heatmap below represents an industry-size bucket that displays the percentage of dependent companies. Users can toggle between views including viewing the sum of their exposed policy limits based on specific technology dependencies.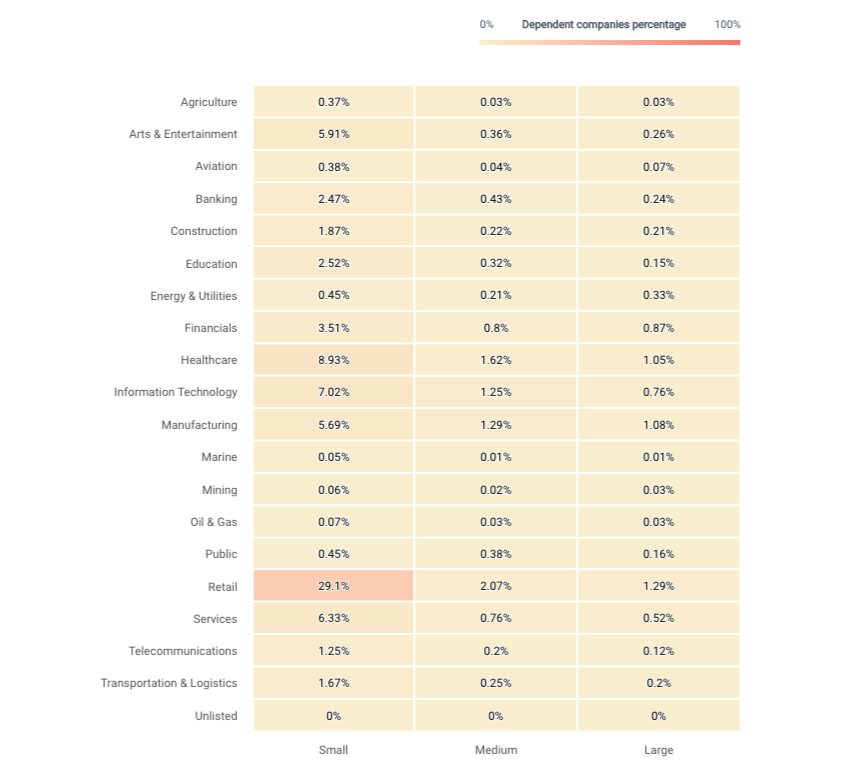 (Screenshot from CyberCube's SPoF Intelligence)
Following Small Retail and Healthcare, we found outsize exposure to Meta Pixel among Small ($10M - $250M revenue) Information Technology, Services, Arts & Entertainment, and Manufacturing companies, respectively. Albeit less so, we also identified notable risk among Small companies operating in Financials and Banking sectors.
Identifying individual companies using Meta Pixel
Through CyberCube's Account Manager, underwriters can access detailed information about a company's technology stack. This empowers underwriters to make informed decisions based on the presence and significance of high-risk technologies like Meta Pixel within the context of a company's operations. For example, the screenshot below shows the presence of Meta Pixel at a Small Healthcare company in the US.

(Screenshot from CyberCube's Account Manager, company name redacted)
Accurately attributing technologies to the companies that rely on them can be challenging. CyberCube addresses this by providing Confidence and Importance ratings. High Confidence ratings indicate technologies corroborated by multiple trusted sources, while Importance ratings evaluate the criticality of the observed SPoF to the company's operations. This nuanced approach allows for a transparent and trustworthy assessment.
SPoF Intelligence is an essential risk analysis tool
As the number of claims related to improper usage of Meta Pixel technology continues to rise, it becomes evident that the role of SPoF Intelligence in estimating and mitigating losses cannot be overlooked. Understanding the risks associated with Meta Pixel and utilizing tools like CyberCube's SPoF Intelligence can help organizations proactively manage these risks, protect data privacy, and prevent losses from regulatory non-compliance.